VoiceGate Voicemail - Integrated Communications Server (ICS)
… Bringing it All Together …
Embracing technology, while at the same time leveraging the corporate investment in existing voice and data infrastructure is one of the toughest juggling acts IT personnel have to perform in today's rapidly changing communications landscape.
This "juggling act" will and has been going on for quite some time as IT managers ask "How do I make my existing telephone and data networks smart while at the same time implementing new technologies which will improve and enhance corporate communications, security and productivity?"
… Unlock the Hidden Profit in Your Communication System …
VoiceGate's ICS is the result of over 25 years of continuous award winning, advanced Computer Telephony Integration (CTI) technology design and networked based application development expertise. VoiceGate delivers a "Best in Class", server based, Desktop or Unified Messaging Communications Suite of Products.
Bundled Power:
Your base ICS with voicemail also comes with:
Screen Pop with Database Integration
… Start Small: Add functionality as requirements and budgets permit …
Scalable Flexibility:
Now that you have installed your ICS voicemail / automated attendant and are familiar with the power and benefits the VG Client desktop messaging interface delivers, you may wish to either add users (clients); or, upgrade your ICS to support:
… Communicate Like Never Before …
This base system integrates seamlessly with most popular phone manufacturer's telephone offerings including:
Nortel Meridian Option, Norstar and BCM
Avaya Definity, IP Office, Magix and Partner
Toshiba
Panasonic
Siemens
Mitel
And many more.
VoiceGate call processing systems are phone system independent. Corporations need not wait to take immediate advantage of the cost savings, and increased productivity the VoiceGate ICS can deliver when "bolted" onto to any existing PABX or key system. Should it be decided down the road to change phone system manufacturers; or, simply upgrade the phone system to a more recent version of your existing manufacturer, VoiceGate protects your existing investment by being capable of integrating new or old phone systems with little or no investment whatsoever.
VG Client – Converged Communication Console
VG Client
Designed to streamline front office operations by improving corporate communications, security and company-wide productivity, VoiceGate's VG Client provides ubiquitous access to all traditional and Internet based messaging mediums including: voice mail, fax mail, e-mail, phone, paging and instant messaging from one powerful, easy to use desktop messaging console.
VoiceGate recognizes that as new technologies are implemented and embraced within any corporate setting, pressure on employees to better manage the continuous stream of information coming at them from many different sources and mediums increases exponentially: often reducing productivity.
The VG Client has been designed specifically to help corporations and their employees to better manage and control this enormous flow of information with a few clicks of their mouse: from the office, from home, the road or anywhere in the world for that matter.
Designed to assist in the efficient processing of information, without checking multiple messaging sources, the VG Client increases communication productivity, improves security and empowers employees to deliver more at dramatically reduced cost.
Take Control
VoiceGate Client Desktop / Unified Messaging console delivers performance and ease of operation to users who want complete control over their messaging, network security and call processing services to and from the following mediums:
Voice mail
....One touch Call back
....Live Conversation
....Recording External transfer to Cell / Premises Phone
E-mail
Cross Media Messaging
....Voicemail to E-mail
....Fax to E-mail (Fax mail)

Instant Messaging
....Desktop-to-Desktop ( Screen Pop)
....Desktop to Pocket Pager
....Desktop to SMS*

Instant Wireless Messaging
....Pager Call Alert of Incoming Calls

Call Accounting
....911 Alarms and Desktop Employee Reports

Digital Recorder Announcer
....Busy On Hold

Screen Capture
....LAN LORD Networked Desktop Security

Customizable
....Interactive Voice Response
Find Me Routing
....Multiple Cascaded Telephone Devices External Paging
....Simultaneous ringing of Cell and Extension (Dual Transfer)

Redirect callers from the automated attendant to your cell phone with a few clicks of your mouse!
The VG Client streamlines a user's daily messaging "housekeeping" via a powerful, intuitive desktop interface. Essentially, the VG Client interface provides users with a "visual call management" tool to better facilitate the processing of messages and information from many different mediums – voice mail, fax mail, e-mail, phone, pager, and instant messages. The VG Client uses Microsoft Outlook to read, delete, compose and manage a user's e-mail account. (Microsoft Exchange Server is supported; however, any POP3 account will do)
Managing voice mailbox settings – follow me calling, distribution lists, greeting messages has never been easier. Users can set up or change advanced mailbox settings with the click of a mouse. The VG Client desktop interface allows each user the ability to play, save, forward and delete their voice mail messages. The Voicemail Message Manager gives users total desktop control of their voice mailbox. The same is true for managing, reading and forwarding e-mail and fax mails.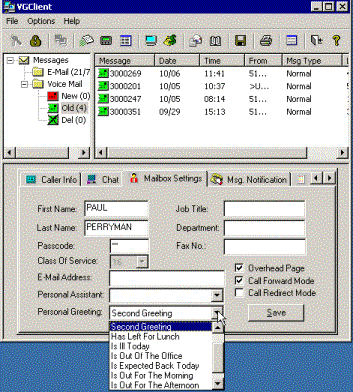 VG Client: Screen Pop
The VG Client's Screen Pop alert of incoming calls comes in two modes. The first is a visual alert, where the VG Client "pops" on the desktop as incoming calls are processed through the ICS' automated attendant. With data base connectivity to most popular CRM packages, the VG Client delivers valuable information about the incoming call prior to the call actually being delivered to the telephone extension by the automated attendant.
This visual alert, displaying information about the inbound call, allows users to better prioritize their time and decide which calls are important to take when and which calls can be left unanswered and be processed by voice mail for a return call at a more convenient time. (Call Screening)
The second mode is an audible one. When the screen is "popped" the VG Client announces who the caller is by using an on board text to speech engine. This audible alert is great for times when the user is not working on their desktop and can't see the visual information; or, for users who are visually impaired.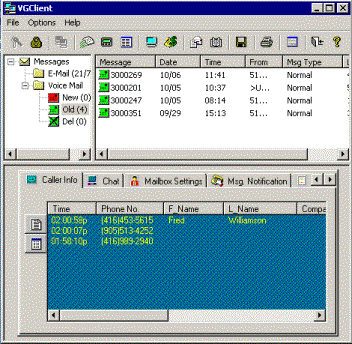 On inbound calls, the VG Client screen will pop, display the caller information and pre-announce in text to speech (sound card and speakers required) " You have a call from" and speak the first and last name or company name associated with that particular caller ID.
VG Client: Instant Peer-to-Peer Text Messaging
The VG Client can be used to send text messages to other VG Client users via the local area network.
Sending a text message to another VG Client user, is as easy as selecting the "Chat" option, entering text into the "Send" window and choosing the user to which you wish to have the message sent.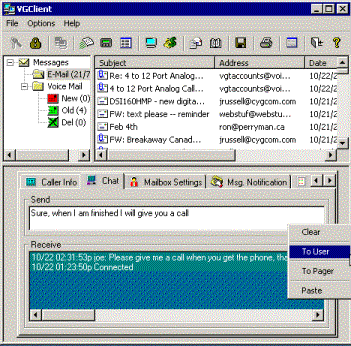 When receiving text messages the VG Client will pop and display the message in the "Receive" window. It will also announce the message via text to speech for the visually impaired or users who are in close proximity to their desktop but may not be focused on it.
Text messages can also be sent to and displayed on pocket text pagers using VoiceGate's Instant Wireless Messaging System. This feature is great for warehouses, car dealerships, educational facilities and retail environments to eliminate obtrusive overhead pages; or, for noisy environments where paging can not be heard.**
....back to top
Security & Control = Improved Accountability & Productivity
Using the advanced VG Client permission-based management utilities to improve messaging security and employee productivity, administrators can leverage VG Client's advanced ability to monitor employee messaging, calling, desktop and internet related activities discretely from their desktop computer.
Here's How
Managers can view employee or department call accounting reports directly from their VG Client desktop. No need to get the IT department involved to set up, configure and run complicated call accounting reports. Managers can now simply turn to the VG Client, click a button and have the employee's call activity reports displayed discretely on their desktop.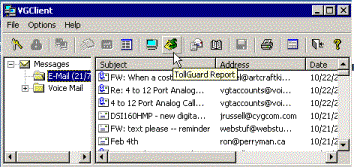 Managers can also configure and run their own reports directly from the security of their own office, on their own computer, without any internal or external assistance.
- It's That Simple -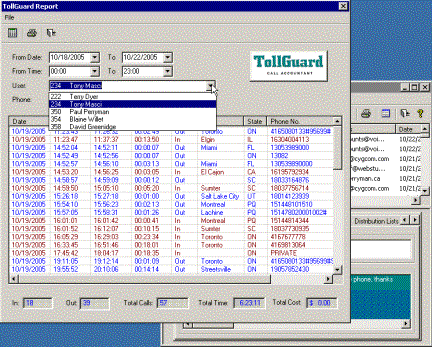 For more comprehensive reports, management can have the Toll Guard Call Accounting e-mail any report to their in-box on a daily basis. The Toll Guard Call Accounting can also be set up to trigger and display or e-mail alarms in the event certain numbers have been dialed (911, competitors or home phone numbers); or, certain employees have not made or received a defined number of calls within a certain calling window.
For instance: Joe the telemarketer must make or receive 50 calls each morning starting at 9:00 and ending at 12:00. In the event this criteria is not fulfilled, the Toll Guard Call Accounting will display or e-mail an alarm alerting his supervisor that he has failed to fulfill his mandate.
- Get Your Call Accounting Report Automatically E-Mailed to You –
- Every Morning -
… Get the Picture? …
The LAN LORD is a powerful management security surveillance and coaching tool that allows supervisors to monitor the activity of any networked PC by capturing real-time images or screen shots of the remote user's networked desktop computer screens.
This networked screen capture surveillance system is great for monitoring the desktop activity of call center agents, telemarketers, sales, support personnel, and educational facilities where productivity, security, and quality assurance is mission critical.
Managers or administrators can capture any desktop screen on any common network and use them as a powerful coaching tool when used to provide objective feedback and training in an effort to assist agents or any employee operate at their peak levels. Continuous monitoring and motivating will improve call center or sales agent's closing ratios, improve the customer's contact experience, improve employee productivity levels, reduce agent or employee turnover, and improve the corporate bottom line.
For management, using the LAN LORD is as simple as clicking an icon on their VoiceGate Client Desktop messaging interface. Click on the LAN LORD screen capture icon, choose the employee that you want to screen capture and get an exact snapshot of exactly what that employee is working on at the moment of capture - it's that simple.

How does the LAN LORD save me money?
LAN LORD'S advanced screen capture technology improves the bottom line by:
Improving Productivity
Enhancing Efficiency
Increasing Customer Retention Levels
Managed, secure delivery of information passed from your agents or employees to your customers is increasingly more difficult to control. Call Center Agents must draw, collaborate, and disseminate information from many different sources: ACD, e-mail, CRM Programs, SMDR, CTI, the Internet and multimedia.
How Can the Enterprise Better Manage How This Information Is Processed?
How Can the Managers Better Coach The Workforce When Utilizing This Information?
How Can Businesses Better Control Which Information Is Disseminated To Their Customers?
Better Manage, Coach & Control with LAN LORD networked screen capture technology
.
- LAN LORD Networked Screen Capture will Improve Productivity -
Use of the LAN LORD will improve employee productivity by giving administrators a tool to analyze how the employee manages their time and how efficiently they utilize available corporate systems and resources. Use the LAN LORD to review associated screen shots to better understand, focus, and coach employees to new levels of productivity.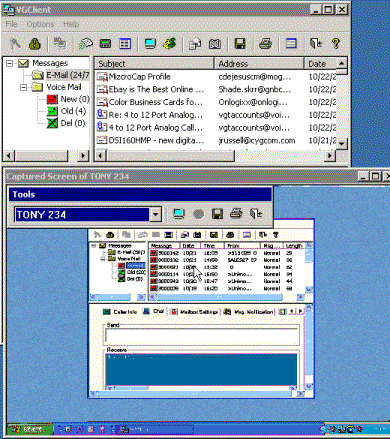 - Improve Employee Accountability & Efficiency -
Managers, regardless of the quality of their workforce, need to have a means to measure how employees are maximizing their work efforts at any given time. Motivating the workforce to focus their efforts efficiently is tough enough without having the proper tools in place to identify individuals who are not utilizing their time and corporate resources effectively. The ability to employ VoiceGate's advanced screen capture technology and identify, and then correct poor time management practices is a powerful motivational and enforcement tool.
.........back to top
- Stay Connected -
Call Alert is an enterprise based on-site, wireless paging system – once the optional transmitter is purchased, and the appropriate paging license is issued by the communications authorities there are no on-going paging fees or charges.
Desktop to Desktop:
Users within an organization can send instant text messages from one desktop to another. Message content is heard and displayed on the desktop using advanced text to speech technology.
Desktop to Pager:
Messages can also be sent from the desktop to a recipient's pocket pager. Eliminate obtrusive noisy overhead pages and immediately connect with mobile on-site workers in case of emergency or just to keep them updated on critical tasks or events.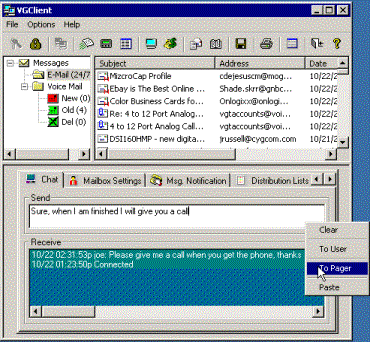 Phone System to Pager:
-The Cost of Missing an Important Call is Impossible to Quantify, but the Results are Clear-
Never miss a call with "Call Alert" wireless notification. Calls into the automated attendant are held while a silent wireless page is sent informing users they have an incoming call and who is calling by displaying caller ID information. Users can then decide if they want to pick up the call or let it pass to voicemail (advanced call screening). If the caller leaves a message in voicemail, the user will be paged and notified a message was left for them and who left it.
Call Alert Instant Wireless Messaging allows for enhanced interpersonal communication. Ideal for noisy environments: overhead page-free zones such as hospitals or large retail stores; car dealerships; marinas; or, large warehousing facilities.
* Optional Upgrade

- Increase productivity by speeding the transfer of information with wireless technology.
- Wireless Freedom – Get away from your desk and stay connected -
Voice to e-mail
When a user receives a new voicemail message the ICS can automatically convert the message to a WAV file and send it to an e-mail account. VG client users can also listen to their voicemail message from their desktop and forward it as an e-mail attachment from their desktop interface, through any standard media player.
When combined with VoiceGate voicemail's ability to record conversations, this is a very powerful feature: being able to immediately forward copies of a conversation to anyone that has an e-mail account.
The VG Client desktop messaging feature does not need to be utilized to have the ICS automatically send voice messages to any e-mail account. Simply set up the user in a class of service supporting this feature and every voice mail message will be copied and forwarded to that user's e-mail account.
Each VG Client user can take complete control of all their personal internal and external messaging and notification requirements through an easy to use and administer desktop interface. The VG Client provides a single integrated converged interface to Voice Mail, Fax mail and E-Mail tasks, displaying and logging of Caller Information (screen pops), administering Voice Mailbox Settings, and sending Text-to-Speech messages to other VG Client users.
VoiceGate's VG Client converged communication console delivers the best in unified and converged communications technology. From its ease of use to advanced functionality, the VG Client is a must have for any organization dealing with the embracing new communications technology while at the same time ensuring a quick return on investment.
One Interface
Employees will benefit from utilizing a single access point for messages coming at them from five mediums – phone, voice, fax, e-mail and text.
Increased productivity
Dramatically improves the speed and quality of bi-directional communication.
Improved Efficiency
The ability to process messages, information and callers gives employees total control over call flow and messaging priorities.
Total Control
Improving employee accountability, while at the same time reducing network, enterprise and administrative costs becomes much easier and quantifiable using the VG Client's employee desktop management tools.
Improved Customer Satisfaction

Streamlined, flexible communication flow increases customer service levels.
Increased Employee Retention Levels
Empowered employees, armed with a communications tool which streamlines the job of message processing and managing through one easy to use, desktop interface reduces the stress and confusion associated with the arduous task of efficient multi-modal message management.
Fastest Return on Investment
Increase corporate efficiency by implementing a single converged messaging system rather than deploying and supporting multiple messaging devices. Combine this with VoiceGate's ability to interface and integrate with virtually any installed phone and data network, delivering the lowest cost of ownership and best price performance available in the telecommunications industry.
Scalability and Flexibility
Designed to open industry standards and capable of supporting customized interactive voice response applications, choose the system that has the ability to expand and adapt to the changes required to satisfy your on-going corporate communication requirements.
Future Proofed Investment

With over 10,000 systems deployed world wide, VoiceGate's award winning systems are based on off-the-shelf hardware and software technologies designed and supported by Microsoft and Intel Corporations. Our industry leading partners ensure that on-going support costs are kept to a minimum while at the same time providing our customers with the highest comfort level that all VoiceGate systems are capable of accepting new technologies as they become available today and into the future.
FOR MORE INFORMATION CALL:
1-800-668-2387 / 905-508-0355
To email us, click here: