Automated Physician On Call System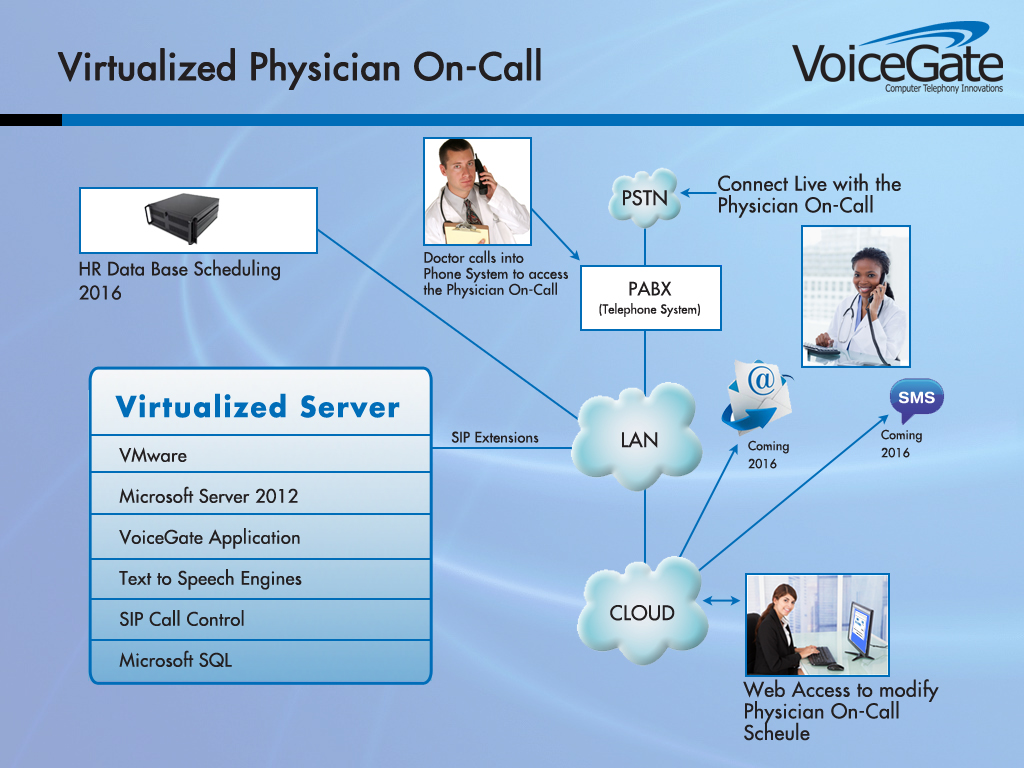 Physician On-Call:
Privacy protection is just as important to patients as it is for Physicians, Clinicians, Specialists or any other person connected to the extended health care network.

VoiceGate's Physician On-Call module solves the issue of automating communication between staff that is on-call, patients and administrators, while at the same time, ensuring their contact information is secure and never disseminated amongst staff, patients or physicians and the rest of the world.
Staff and Physicians update the VoiceGate's calendar, letting it know when they are on-call and what numbers (up to 5 including SMS, e-mail and pagers) they can be contacted at and on what dates and times.
Once the easy to use web-based calendar has been populated with Physician / Staff availability and contact points, people wishing to contact them, say, an ophthalmologist, simply do the following:
Call a designated main number.
Pick from a menu of on-call choices and pick ophthalmologist.
The VoiceGate then determines who is on call and what contact number(s) to call them at.
The system then dials the on-call number(s).
Once answered, the caller and called party are connected live.
Logs are then set in the data base for future reference and tracking.
The VoiceGate then waits for the next person to call who wants to contact an on-call individual.
The VoiceGate On-Call module has been specifically designed to eliminate the need to have an operator processing requests that require a look-up of who is on-call and then attempt to get that person on the line and then connect the caller to the on-call party.
This module eliminates the need for any expensive full time employees to process these calls, delivering 24/7 call processing, unparalleled connectivity
at a very low cost of acquisition.
FOR MORE INFORMATION CALL:
1-800-668-2387 / 905-508-0355
To email us, click here: