NURSE CALL FOR APOLO DS/VOICEGATE DYNAMIC SERVER
Our NurseCall System has the power to efficiently manage Nurse Call System alarms and staff responses. It meets all the needs of a hospital, nursing home, and an assisted-living facility. The Nurse Call System is the communications link between patient, caregivers & management.
The system has levels of routine, emergency and code/fire to notify staff or nurse.
Portable pendants that allow residents in a nursing home to travel throughout the home knowing that help is always a button press away.
The system dispalys calls, provides detailed reports on all system activity.
How a Unified Nurse Call™ works for ApoloDS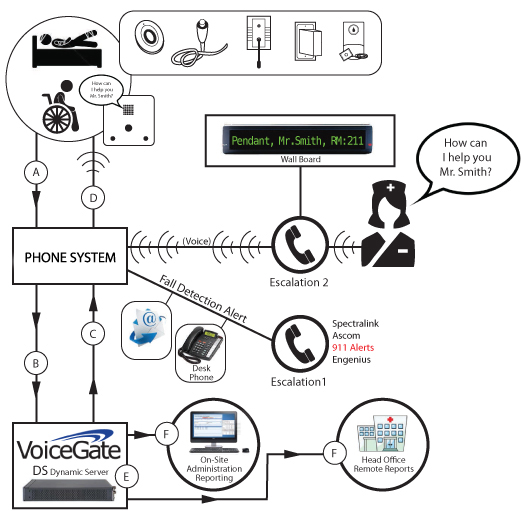 Resident / Patient activities Nurse Call.
Phone system transfers call to DS, DS Checks it's program for escalations
specific to that call trigger (pendant, flood, smoke detector, etc.).
DS instructs which call points (phone, speaker, wall board etc) to notify
based on nurse/ caregiver assignment by shift.
Once the caregiver answers, the speech path is opened into the room.
DS logs the trigger event and Nurse's response time to respond into the room.
Head office or Administration receives automated or custom report (Nurse's
response times etc.)
FOR MORE INFORMATION CALL:
1-800-668-2387 / 905-508-0355
To email us, click here: