Alarm / Event Management System

VoiceGateDS
The VoiceGate Dynamic Server (DS)™ is a powerful Alarm / Event Management system that controls and tracks all critical and non critical events in any Retirement / Assisted Living, Long Term / Critical Care Facility.
VoiceGateDS™ Delivers Unparalleled Voice & Data Interconnectivity...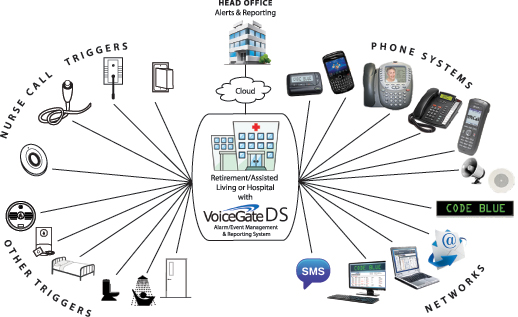 ..In One Seamlessly Integrated Unified Communication & Reporting Solution.

The DS works to interconnect all new and existing data and communication infrastructure, delivering the most accurate reporting on every event that goes on in your facility, day and night, on time, every time. With low cost of ownership, the DS facilitates improved communications between residents, caregivers and administrators delivering:
Comprehensive Real Time on-and-off Site Reporting
Increased Staff Productivity
Improved Service and Response Times
Improved Resident and Staff Safety
Decreased Liability Exposure
Improved Resident Satisfaction
Increased Resident Retention
Faster Staff to Resident Responses
Streamlined Staff to Staff Communication
Improved Bottom Line
Reporting:
With fast, accurate notifications based on skill-set, day, hour, and day of week, management and administrators can track critical caregiver-to-patient interactions. This detailed, centralized, off-or-on-site reporting, allows for monitored improvement of patient safety, caregiver response times, workflow and increased resident / patient satisfaction. Retirement residences utilizing the VoiceGateDS middleware not only to monitor; but also, track workflow and response-times are now empowered to test, track and deliver the highest level of quality care and patient safety available in the industry.
Improved Site Workflow:
The DS is a workforce collaboration tool that streamlines and facilitates disparate technologies interoperability within a care-based residence, while at the same time, improving communication between your staff, residents and extended healthcare network (families, doctors, emergency centers). This improved communication (between mobile, informed caregivers), can be easily achieved by utilizing the VoiceGateDS to monitor and facilitate flexible nursing assignments and improved, unified communication between
mission critical devices and systems such as:
Pagers (Pocket and Off-Site)
Desk Telephones
Smart Phones (Bring Your Own Device-BYOD)
Wireless Telephones
Cellular Telephones
Other Public Network Telephones
Email Notification
Wandering Lockdown
PC Desktop
Hallway Monitoring Alarm & Scrolling Display Boards
Networks
PABX / Key Systems
Nurse Call (Active and Maintenance Monitoring)
SMS Notification
911 Alerts
Off Hook Alerts
Improved Communications:
The VoiceGateDS is capable of allowing facilities to leverage their investment in its
existing voice and data infrastructure. This allows improved communication between all campus stakeholders by interconnecting and creating a seamless, unified communication interface to the different systems and to the people employed or living in a
facility. It can do this by delivering the following:
Rich content and critical resident data such as: patient affliction(s) and facial imaging for wandering applications.
Automated Medication Reminders (up to 5 a day).
Automated Resident Check-In-Out.
Bi-directional Voice Communication between resident and caregiver.
Recording Conversations between resident and caregiver.
Processing, Tracking and Managing Triggered Events.
Permissions Based Administrative Access to Reports.
Dynamic Staff Assignments.
Assignments by Shift (3 per day) and Day of Week (7 per week).
Escalation by Trigger (ie: Pendant / Smoke) to Target (ie: cell or wireless phone) with up to 5 escalations per trigger.
Unique Trigger / Target set up by room, time / day and caregiver.
Contact Closure / Open for Patient Wander Applications.
Additional Integrations:
Optionally upgrade your VoiceGateDS modularly and at anytime to support:
HVAC / Fire Alarm System Integration
CCTV Systems
Security / Door Access Control Systems
Patient Wandering Systems
Emergency Notification / Business Continuity Planning
Automated Staff Rostering
Call Accounting / Telephone Billing
Magnetic Locks
Integrate your Communication Services with the VoiceGateDS delivering:
Unparalleled Workflow Efficiency.
Increased Resident Safety.
Streamlined Communication.
Higher Occupancy Rates.
Improved Bottom Line.
FOR MORE INFORMATION CALL:
1-800-668-2387 / 905-508-0355
To email us, click here: